…Dejadme que hoy os cuente  un cuento…
En esta semana en la que los días en en Madrid empiezan a ser más cortos y frescos, mi mente tripper se dispara instintivamente hacia destinos cálidos y soleados…pero pensándolo "en frío" (nunca mejor dicho), es cierto que esta época del año no se presta demasiado a ello y además, no sé a vosotros, pero a mí me entra mucha morriña de verano!! He decidido tener un poco de paciencia hasta fin de año que tengo preparado cruzar de nuevo el charco y prometo iniciar el 2016 con un post caliente caliente  🙂
Así que, tras reflexionarlo un poco, hoy os propongo escaparnos a un destino misterioso, lleno de leyendas y supersticiones, intrigante, de los que te incitan a descubrir más… un plan distinto y un cambio de chip tras nuestro tour por Marrakech… ¿no es ésto lo más bonito de viajar ? 😉
Edimburgo es la capital de Escocia y, aún formando parte de Inglaterra, cuenta con una identidad y personalidad propia;  un acento característico, un idioma particular (cuentan con su propio dialecto scottish), un caracter muy alejado de la famosa flema inglesa), y hasta un paisaje totalmente distinto: me encanta la imagen de sus colinas montañosas, bañadas por un cielo plagado de nubes y el halo fantasmagórico de sus castillos. La ciudad de los fantasmas
Dicen que fue aquí, en las cafeterías The Elephant House ( http://www.elephanthouse.biz, en 21 George IV Bridge),  y la desaparecida Nicholson's Café (hoy en día cafetería Spoon, http://www.spoonedinburgh.co.uk, en 6A Nicolson Street), donde J.K.Rowling escribió la famosa saga de Harry Potter: Pasear por la ciudad y sus alrededores es sentirse dentro de la historia y el increíble castillo gótico que hoy en día alberga el prestigioso colegio privado George Heriot's School es la viva imagen de Hogwarts: hasta sus alumnos se dividen en cuatro casas y durante el curso deben conseguir puntos para su casa respectiva!! Es una pena, la escuela no está abierta visitas, pero podrás verla desde diferentes puntos de la ciudad: Heriot Place, Lauriston Place o el Cementerio de Greyfriars. También desde la explanada del castillo o desde lugares como Victoria Street.
Y no solo Harry Potter, en los 39 Escalones de Hitchcock la ciudad es el telón de fondo a la frenética persecución en blanco y negro en el Forth Bridge: el icónico puente que une la costa de Edimburgo con Fife, en El Código da Vinci encontramos la Capilla de Rosslyn, a media hora de camino de la ciudad, que es clave en el filme en la búsqueda del Santo Grial… Se ha llegado a decir que el cielo de Edimburgo inspiró a los creadores de El Mago de Oz: si os fijáis muchs de los paisajes de la película recuerdan a los nublados, sublimes e impredecibles cielos escoceses.
Podría estirar este post hasta el infinito! Leyendas, edificios históricos, cultura, excursiones y paseos… ¿sabéis que a Edimburgo se le llama cariñosamente Auld Reekie (vieja humeante o vieja chimenea)? Unos dicen que es por la inconfundible mezcla de olor a cerveza y de la destilería de whisky que se nota desde las afueras de la ciudad, otros que se debe a que durante los tiempos en los que la leña y el carbón eran los únicos combustibles, todas las chimeneas echaban gran cantidad de humo al aire. También se la conoce como la Atenas del Norte por la similitud entre su Old Town y la Acrópolis o incluso la Reikiavik del Sur por su arquitectura neoclásica. El caso es que si tomáis la decisión de visitar este destino no os va a defraudar…
Una vez llegados al aeropuerto podéis coger un taxi negro o black cab (unas 25-30 libras) o un autobús hasta la ciudad: los autobuses son el Airlink 100 (pasa cada 10 minutos y te deja en la estación de Waverley Bridge por unas 3,5 libras la ida, 6 libras ida y vuelta) o el autobús de la línea 35 por 1,50 libras el billete.
Edimburgo se divide en dos grandes zonas: Old Town y New Town, cada una con una gran arteria principal: en la ciudad vieja destaca la Royal Mile, y en la nueva Princess Street.  Podéis dedicar un día entero a explorar cada zona, os ofrecerán dos perspectivas muy diferentes y complementarias.
OLD TOWN: 
Para empezar el recorrido por la ciudad vieja, es recomendable partir de la Royal Mile: La calle más importante que, en sus 1.800 metros (o una milla escocesa) de este a Oeste comunica el Castillo de Edimburgo con el Palacio de Holyrrodhouse. Pasear por la Royal Mile es la mejor manera de ir descubriendo la parte antigua, y perfectamente podéis dedicar un día para sacarle todo el partido: partiendo del Castillo a primera hora de la mañana para llegar a ver la puesta de sol desde la colina Arthur's Seat. 
Las principales cuatro etapas del camino por la Royal Mile serían:
1) Castlehill: es la zona del Castillo y sus alrededores. El castillo es una antigua fortaleza que se erige sobre una gran roca en medio de la ciudad, y es una de las principales atracciones turísticas. Si queréis visitarlo, la entrada para adultos cuesta unas 16 libras y la visita completa dura en torno a 2 horas. Desde la explanada del castillo hay unas vistas muy bonitas del Norte y del Sur de la ciudad. Una curiosidad, cada día a las 13h, se escucha un cañonazo conocido como el One O'Clock Gun: una tradición que se conserva desde 1861 en la que (excepto los Domingos, Viernes Santo y el día de Navidad), se lanza un cañonazo que sorprende enormemente a los turistas desprevenidos 🙂

Siguiendo nuestro paseo desde el castillo, y os recomiendo explorar los preciosos callejones (o wynds) en los que radica gran parte del encanto de la Royal Mile. En especial, podéis perderos por Riddle's Court y Lady Stairs's Close (que os conducirá al Lady Stairs's House o Museo de los Escritores)
2) Lawnmarket sería la "segunda parte" de la Royal Mile y una de las zonas más antiguas. En ella está la Catedral de St, Giles: la única iglesia de Edimburgo de la época medieval, y a la salida encontrarás la famosa Estatua de David Hume en la que seguramente veas a alguien frotando el dedo gordo de su pie: dicen que trae suerte en los estudios!

The Real Mary King's Close o Ciudad Subterránea, es un conjunto de callejones sepultados que concentran un gran número de leyendas e historias de fantasmas. Hoy están abiertos a visitas y constituyen otra de las grandes atracciones de la ciudad.
La Plaza del Parlamento concentra algunos monumentos turísticos como el Heart of Midlothian (Un corazón de piedra tallado en el suelo en el que existe una costumbre de escupir a modo de queja por las tasa públicas que imponía el Ayuntamiento), o edificios neoclásicos importantes como el Lothian Reginal Chambers, Signet Library o la Parliament House. 
3) High Street: la parte más conocida de la Royal Mile con gran cantidad de tiendas, pubs, bares y restaurantes. Podéis hacer una parada en este tramo para comer y tomar un café o una pinta (dos buenos sitios serían The Last Drop o The Black Bull), la zona de Grassmarket es ideal porque sus precios no son tan elevados como comer en plena Royal Mile
Si te encaminas hacia Candlemaker Row, verás unas escaleras que llevan al Cementerio Greyfriars, el cementerio hechizado, lleno de leyendas y supersticiones (la leyenda del perrito Bobby, apariciones del más allá). Dicen que la autora de Harry Potter se inspiró en él para la famosa escena en la que Voldemort se bate en duelo con el protagonista.
4) Canongate: es el extremo sur de la Avenida. Cuenta con sorprendentes jardines, museos, y con la Iglesia de Canongate, en cuyo cementerio está enterrado el filósofo Adam Smith.

Llegando casi al final de la Royal Mile podéis merodear por dos callejones con mucho encanto como White Horse Close (que desemboca en un pintoresco patio de vecinos) y Dunbar's Close (que os llevará hasta unos jardines al estilo del Siglo XVII)
El punto final del recorrido lo ponen el Parlamento Escocés y el Palacio de Hollyrrodhouse, residencia oficial de la Familia Real Escocesa. Pasear por el parque Hollyrood y llegad hasta el Lago de St. Margaret's, para subir hasta la los peñascos de Salisbury Crags y la colina de Arthur's Seat, el colofón final para contemplar la postal más conocida de Edimburgo y uno de los mejores lugares para terminar el día con la puesta de sol.
NEW TOWN: 
Al igual que en la Ciudad Vieja, el recorrido por la New Town puede hacerse también a pie. Podréis contemplar sus calles llenas de edificios señoriales entre los que se abren idílicos jardines y que muestran una cara diferente de Edimburgo más armónica y tranquila frente al bullicio de la Old Town.
¿Qué ver en esta zona?
Calton Hill, un must por sus vistas clásicas de la ciudad antigua y sus monumentos, como la réplica inacabada del Partenón de Atenas
Princess Street, la arteria principal, esta llena de comercios y cafeterías (ubicadas en las plantas altas de los edificios para poder tener las mejores vistas de la ciudad vieja) y en ella se ubica el impresionante Hotel Balmoral, cuyo reloj siempre va adelantado dos minutos para que los viajeros que vayan a tomar el tren en la estación de enfrente (Waverly) lleguen a tiempo y en que sirven el famosísimo té de la tarde. También podréis visitar los Jardines de Princess Street desde los cuales tener una vista perfecta del castillo, o visitar el Farmer's Market los Sábados, donde podrás comer alimentos directamente de los productores escoceses.
Charlotte Square y Moray Place os ofrecerán la cara más tranquila y menos turística de la ciudad nueva.
El Barrio de Stockbridge,  donde hay gran cantidad de comercios locales, cafeterías y tiendas de delicatessen. 
La Aldea de Dean Village, una antigua aldea con molinos y con casitas muy pintorescas
St. Andrew Square, una plaza muy animada y llena de jardines
Rose Street, una calle peatonal situada entre George Street y Princess Street llena de comercios por la que dar un agradable paseo.
Con estos dos completos recorridos os podéis hacer una visión bastante completa de Edimburgo, aunque si contáis con algún día extra es más que recomendable hacer alguna excursión por sus alrededores. Los paisajes de las Highlands, los lagos y castillos de Escocia son un complemento perfecto en el viaje a la visita de la ciudad.
EL LAGO NESS Y LAS TIERRAS ALTAS:

Sólo necesitaréis un día para poder disfrutar de uno de los principales misterios de Escocia: el Lago Ness, famoso por la leyenda del mounstruo, Nessie, que habita en sus aguas y cuya debatida existencia volvió a la actualidad en 2014 cuando la aplicación del servicio de mapas de Apple "aseguraba" haber visto su rastro cuando en realidad era el halo de una embarcación.
Además en el tour podréis visitar el espectacular Valle Glencoe, bordear el Ben Nevis, (la montaña más alta de Reino Unido), visitar el pueblo de Dunkeld y algunas destilerías.
LA RUTA DE LOS CASTILLOS:

Una de las rutas abarcaría el Castillo en ruinas de Berwick-upon-Tweed, el castillo normando de Bamburgh y el castillo de Alnwick (en el que se grabó parte de la saga Harry Potter)
Otra alternativa sería hacer la ruta en la que se vé el por qué de la inspiración en Escocia de grandes autores como Shakespeare, Walter Scott o J.M. Barrie. Viendo el castillo de Glamis, considerado el castillo más encantado de Europa con Mac Beth y las Brujas, el de Dunnotar, y Kirrimuir, lugar donde nació Peter Pan.
Tanto si decidís alargar la visita con estas excursiones como si preferís quedaros en Edimburgo y disfrutar en profundidad de la ciudad, aquí van unos cuantos BITES para sacarle partido…
Como habéis ido comprobando a lo largo del post, uno de los grandes reclamos de Edimburgo son sus innumerables leyendas e historias de fantasmas.
Si os apetece pasar un plan de miedo, existen tours de unas dos horas por catacumbas y bóvedas subterráneas, cementerios, puentes y cárceles en los que además, aprenderéis muchos detalles de la cultura y de las gentes de allí. Un plan diferente para hacer en la ciudad. En http://www.getyourguide.es/edimburgo-l44 encontraréis diferentes propuestas.
Como "supuesto tour de fantasmas", aunque en realidad sea un tour histórico, podéis hacer la visita guiada a la Real Mary King's Close, donde hacer una inmersión en la forma de vida de los siglos XVI y XVII y conociendo en profundidad lo que es un "lose".
Otra alternativa curiosa es la Scotch Whisky Experience o la Edimburgh Gin Destillery: la primera permite ver de cerca el proceso de elaboración del whisky y es una buena opción en la ciudad para los que no tengan la posibilidad de visitar una destilería real. La segunda, para conocer la historia de la ginebra acompañada por una pequeña cata.
Pero, por lo que sin duda es conocido Edimburgo, es por el Fringe Festival, https://www.edfringe.com, que no es un Festival concreto sino un conjunto de festivales que van desde finales de Julio hasta comienzos de Septiembre y que abarrotan la ciudad. Con más de 3.000 shows artísticos que incluyen desde música, teatro, comedia, exhibiciones y hasta espectáculos circenses, es uno de los atractivos más internacionales al citar a los grandes gigantes de las artes escénicas.
Lo más habitual en Edimburgo es salir a tomar una pinta, hay cientos de bares y pubs para hacerlo. Las cervezas escocesas más famosas son McEwan's y Tennents, pero en los pubs encontraréis todo tipo de marcas locales e internacionales para elegir. Lo que más me gusta de estos locales es la cantidad de historia y recorrido histórico que tienen a sus espaldas, mientras disfrutas de tu bebida podrás escuchar de la mano tanto de clientes como de empleados mil anécdotas y relatos que harán que tomar una cerveza sea una experiencia sorprendente y muy divertida!
La Deacon Brodie's Tavern es la taberna más famosa de la Royal Mile y se encuentra ubicado en la zona de Lawnmarket. El nombre de la taberna hace referencia a William Brodie, un ciudadano que por la noche se convertía en un temible ladrón, inspiró "El extraño caso del Dr. Jekyll y Mr. Hyde" de Robert Louis Stevenson.
Last Drop, "el último trago", (74/78 Grassmarket, EH1 2JR), recuerda con su nombre a los reos que antes de ser ejecutados ante el pueblo tomaban su última cerveza o whisky en el pub. Otro lugar cargado de leyendas e historias de apariciones como la de una niña que se deja ver en la azotea o incluso en la misma barra del pub.
Finalmente, The world's end, "el fin del mundo", antiguamente frontera entre lo que era "el mundo conocido" y el "no mundo"; ya que es el lugar en el que se encontraban las puertas de entrada y salida a la ciudad, hoy en día marcados por unos adoquines dorados justo enfrente de la taberna.
Y no solo una pinta, el clima escocés invita a frecuentar las diferentes propuestas de cafés, no solo la ya mencionada "cuna" de Harry Potter: Elephant House http://www.elephanthouse.biz, en 21 George IV Bridge, sino otras muchas opciones no menos interesantes:
The caffeine Drip, http://www.thecaffeinedrip.com, es una de las que más me gustan. Cuentan con un delicioso café africano y también ofrecen completísimos desayunos en un ambiente muy agradable. La encontraréis en

10 Melville Pl, Edinburgh

.
Del Artisan Roast dicen que tiene el mejor café de la ciudad. Es un lugar pintoresco para "auténticos bebedores de café" y para desconectar: no hay conexión wi-fi y el ambiente está 100% orientado a que te relajes y disfrutes del momento! Si además el día es lluvioso y puedes ver la lluvia a través de los cristales, el plan será redondo! 😉 http://www.artisanroast.co.uk, en el 57 de Broughton Street y el 138 de Bruntsfield Pl.
Y, si alguno de vosotros es más de vino como yo, os dejo el bite de la enoteca Ecco Vino, http://www.eccovinoedinburgh.com, en 19 Cockburn St, cerca de la estación de Waverley. Tiene una lista muy interesante de vinos a elegir y también zona de restaurante, auqnue si os pedís una tabla de aceitunas, pan y pestos para acompañar la copa también es muy agradable!
Debo reconocer que los platos típicos escoceses no están hechos para mí. El Haggis, uno de los platos más populares, está elaborado con hígado, corazón y pulmones de cordero, todo ello embutido en la piel formada por el estómago y hervido. Otras recetas tradicionales son los Neeps and tatties (puré de rábanos y patatas), la Cook-a-leekie o sopa de puerros, patatas,caldo de pollo y mantequilla, o el Kipper o arenque ahumado. Acuérdate si pides patatas fritas que la salsa allí es una mezcla de vinagre y "brown sauce": con tomates, melaza, dátiles, tamarindo, especias, vinagre, pasas…y si lo que quieres es ketchup tendrás que pedirlo (y pagarlo) aparte.
Edimburgo cuenta con gran cantidad de restaurantes, las mejores zonas serían la parte superior de la Royal Mile en la Old Town, Princess Street en la New Town, y la calle peatonal Rose Street. Aunque también es frecuente poder comer o cenar en cualquier pub, pidiendo la comida en la barra y pagándola nada más servir para poder tomarla después en alguna mesa que quede libre.
Algunos de los lugares que me gustaron para comer algo son:
The Roamin' Nose, http://www.theroaminnose.com, en 14 Eyre Place, Edinburgh (New Town). Un lugar diferente, acogedor, sorprendente, con excelente comida y buenos precios.
Café Hub, http://www.thehub-edinburgh.com/cafe, un lugar estiloso en la Royal Mile en pleno casco antiguo pero alejado de la vorágine de turistas, que cuenta con una terraza con vistas impresionantes y comida sencilla pero de calidad.
Wildfire, http://wildfirerestaurant.co.uk, en el 139 de Rose Street (New Town), es un local pequeño en el quepoder degustar la mejor carne de las Highlands, quesos escoceses y cervezas artesanas.
Y pasemos a buscar los mejores alojamientos! Como ya sabéis, el hotel Balmoral (http://balmoral.grandluxuryhotels.com) es uno de los más famosos y prestigiosos, pero quizás demasiado clásico y lujoso para mi gusto. La ciudad ofrece otras muchas alternativas con encanto y con precios más reducidos, como éstas que os comento que no os defraudarán:
Tigerlily Hotel, http://www.tigerlilyedinburgh.co.uk, ofrece por unos 150€ la noche una ubicación excelente en la New Town, un animado coktail bar y una zona de cenas espectacular.
The Inn On the Mile, http://www.theinnonthemile.co.uk, en pleno centro de la ciudad antigua y muy curioso: a entrada al hotel se realiza a través del pub. El edificio que hoy en día alberga el hotel fue antiguamente un banco y le dota de un caracter muy especial. Son unos 140€ la noche.
Motel One Edinburgh Royal, http://www.motel-one.com, en la histórica plaza del mercado del Grassmarket. Podrás alojarte en él por unos 75€la noche.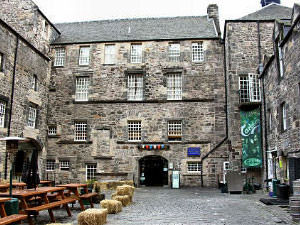 ¿Habéis escuchado el dicho de que en Escocia puedes encontrar las cuatro estaciones del año en un mismo día? En Edimburgo, en pleno día de sol, puede cubrirse completamente el cielo y descargar una tormenta para en pocos minutos volver a asomar los rayos de nuevo… esto es un reto a la hora de preparar la maleta porque tienes que estar prevenido para todo! Lo mejor, pensar en layers o capas que ir poniéndose y quitándose, así como un buen bolso o mochila donde ir haciendo acopio de ellas. En invierno, no dejes de llevar abrigo impermeable y en verano no te olvides de alguna prenda que, aunque sea ligera, tenga manga larga. Lo más importante: el calzado. Además de cómodo, buscarlo resistente o aprueba de agua. Si os habéis despistado y el tiempo os pilla desprevenidos, buscad el refugio de un café! Seguro que la tormenta pasa pronto y podéis volver de nuevo al camino…
Tened en cuenta que es fácil que el sol a las 17h ya se esté ocultando, así que hay que ir mentalizados para la falta de luz y de sol, no vayáis a coger el winter blues, una especie de depresión que los habitantes de la ciudad manifiestan por este efecto de falta de luz unido al mal tiempo y que les hace quedarse en casa calentitos por no salir a la calle. Intentad si el tiempo no os acompaña poner buena cara al mal tiempo!, Edimburgo ofrece paisajes también muy atractivos cuando está nublado y lloviznoso. 
Pensar en Escocia es ver tartán por todos sitios… El tartán es el tejido escocés por excelencia y se ha convertido en uno de los símbolos más representativos de su cultura. En la propia Edimburgo encontraréis multitud de tiendas tradicionales vendiendo tanto el tejido como prendas ya elaboradas como el famoso kilt o falda escocesa masculina, bufandas, jerseys, abrigos…
Además del tartán, otras compras típicas son el whisky (aunque ojo! los precios son considerablemente más caros que en España), tortas de avena (oatcakes) y galletas de mantequilla (shortbread), y hasta música con las típicas gaitas escocesas. Todo ello podréis encontrarlo fácilmente en las tiendas de la Royal Mile.
Aquí unos looks útiles para recorrer cómodamente la ciudad…
Y hasta aquí el post de hoy! Espero que hayáis disfrutado de esta ciudad de cuento y supersticiones… Para los que tengáis la suerte de visitarla próximamente, espero que la guía os resulte útil y como siempre, no dejéis de contarme vuestras experiencias y proponer más BITES!!!  En este caso, me gustaría agradecer los Bites que mi amigo MM ha aportado sobre las excursiones más interesantes a realizar desde Edimburgo 🙂
Feliz semana, Trippers!
xxx
E
---
…Let me tell you a story today…
This week the days in Madrid are becoming shorter and fresh and my tripper mind fires instinctively to warm and sunny destinations … but thinking "cold" (pun intended) , it is true that this time the year does not lend itself too well to it and takes me very homesick of summer!! I decided to have a little patience until the end of the year beacuse I am planing an overseas trip and I promise to start 2016 with a hot hot post 🙂
So after some thought, I propose to escape a mysterious destination, full of legends and superstitions , intriguing , of which challenge you to discover more … a different plan and a change of chip after our tour of Marrakech. .. this is the most interesting thing about travelling, don't you think? ; )
Edinburgh is Scotland's capital and, still part of England, has an identity and personality; a distinctive accent, a particular language ( have their own dialect scottish ), a far cry from the famous English character, and even a totally different landscape: I love the image of its hills bathed by a cloud -studded sky and spooky castles halo.
They say it was here, in The Elephant House Cafe (http://www.elephanthouse.biz , at 21 George IV Bridge), and the former Nicholson's Café (today café Spoon, http://www.spoonedinburgh.co.uk 6A Nicolson Street), where J.K. Rowling wrote the famous Harry Potter: Walking around the city and its surroundings is felt within the story and the amazing Gothic castle today houses the prestigious private school George Heriot's School it is the picture of Hogwarts students are divided up into four houses and during the course should get points for their respective home!! It's a shame, the school is not open views, but you can see it from different points of the city: Heriot Place, Lauriston Place and Greyfriars Cemetery. Also from the castle esplanade or from places like Victoria Street.
And not just Harry Potter, in the 39 Steps of Hitchcock, the city is the backdrop to the frantic chase in black and white on the Forth Bridge: the iconic bridge linking the coast of Edinburgh with Fife. In The Da Vinci Code you can see the Rosslyn Chapel, half hour from the city, which is key to  the quest for the Holy Grail in the film… It has been said that the Edinburgh sky inspired the creators of the Wizard of Oz: if you look muchs landscapes reminiscent of the film cloudy, sublime and unpredictable Scottish skies .
I could extend this post to infinity! Legends, historical buildings, culture excursions and walks … do you know that Edinburgh is affectionately called Auld Reekie (Old steaming,old fireplace) ? Some say it's the unmistakable smell mixture of beer and whiskey distillery that is noticeable from the outskirts of the city, others that because during the times when the wood and coal were the only fuels all the chimneys threw great amount of smoke into the air. Also it is known as the Athens of the North, or the Reikjavik of the South for its neoclassical architecture. The fact is that if you take the decision to visit this destination it will not disappoint you …
Once at the airport you can take a black cab (about 25-30 pounds) or a bus. The city buses are the Airlink 100 (runs every 10 minutes and drops you off at Waverley Bridge Station for about 3,5 pounds the single ticket, 6 pounds the round trip) or bus line 35 for 1.50 pounds ticket.
Edinburgh is divided into two main areas: Old Town and New Town, each with a main artery in the old town stands the Royal Mile, and Princess Street in the new. You can spend a whole day to explore each area, they will offer you two very different and complementary perspectives.
OLD TOWN: 
To begin the tour of the old city, go to the Royal Mile: The most important street with 1800 meters (a Scottish mile) from east to west connects Edinburgh Castle to Holyrrodhouse Palace. Stroll along the Royal Mile is the best way to discover the old town and perfectly can devote a day to make the most: starting from the Castle early in the morning to get to see the sunset from Arthur 's Seat hill.
The main four stages of the way down the Royal Mile are:
1) Castlehill: it comprises the area of the castle and its surroundings. The castle is an old fortress that stands on a large rock in the middle of the city, and is one of the main tourist attractions. If you want to visit, admission for adults costs about 16 pounds and the full tour lasts about 2 hours. From the esplanade of the castle there is a nice view of the North and South of the city. A tradition that is conserved from 1861 in which (except Sunday ,Good Friday and Christmas Day), a cannon is launched: a curiosity, every day at 13h, a cannon known as the One O'Clock Gun is heard greatly surprising the unsuspecting tourist 🙂

Following our walk from the castle, I recommend exploring the beautiful alleys (or wynds) wherein lies much of the charm of the Royal Mile. In particular, you can wander through Riddle 's Court and Lady Stairs 's Close (which will lead you to Lady Stairs 's House or Writers Museum)
2) Lawnmarket would be the "second part " of the Royal Mile and one of the oldest areas. There is the St Giles Cathedral: the only church in Edinburgh medieval times and out will find the famous statue of David Hume in which surely you see someone rubbing the big toe of his foot: is believed to bring luck the studies!

The Real Mary King's Close or Underground City, is a set of buried alleys that concentrate a large number of legends and ghost stories. Today they are open to visitors and constitute another major attractions .
Parliament Square is home to some tourist sites such as the Heart of Midlothian (A heart of stone carved in the floor where there is a habit of spitting as a complaint by the public rate imposed by the City Council), or neoclassical buildings important as Reginal Lothian Chambers, Signet Library or the Parliament House.
3) High Street: the best known part of the Royal Mile with lots of shops, pubs , bars and restaurants. You can make a stop on this stretch to eat and have a coffee or a pint ( two good sites would be The Last Drop and The Black Bull) , the Grassmarket area is ideal because their prices are not as high as eating in the middle of Royal Mile
If you make it to to Candlemaker Row, you'll see some stairs leading to Greyfriars Kirkyard, the graveyard haunted , full of legends and superstitions (the legend of Bobby puppy, beyond appearances). They say that the author of Harry Potter inspired him for the famous scene where Voldemort duels with the protagonist.
4) Canongate: It is the southern end of the avenue. It has amazing gardens, museums, and Canongate Church, in whose cemetery is buried the philosopher Adam Smith

Arriving near the end of the Royal Mile you can wander by two charming alleys as White Horse Close (which flows into a picturesque courtyard of neighbors) and Dunbar 's Close (which will take you to gardens in the style of the seventeenth century)
The end of the route they put the Scottish Parliament and the Hollyrrodhouse Palace, official Scottish residence of the Royal Family. Strolling through the Hollyrood park outisde to Lake St. Margaret's, to climb to the cliffs of Salisbury Crags and the shadow of Arthur 's Seat, the climax to contemplate the best known Edinburgh postcard and one of the best places to end the day with sunset .
NEW TOWN: 
As in the Old City, the tour of the New Town can also be done on foot. You will be able to contemplate its streets lined with stately buildings including idyllic gardens open and showing a different, more harmonious and quiet compared to the bustle of the Old Town side of Edinburgh.
What to see in this area?
Calton Hill, a must for its classic view of the old city and its monuments, including the unfinished replica of the Parthenon in Athens
Princess Street, Princess Street, the main artery, is full of shops and cafes (located on the top floors of the buildings to get the best views of the old town) and it is located in the impressive Balmoral Hotel, whose clock is always ahead two minutes for the travelers to take the train in the station opposite (Waverley) arrive on time and in serving the famous afternoon tea. Also you can visit Princes Street Gardens from which to have a perfect view of the castle, or visit the Farmer 's Market on Saturdays where you can eat food directly from Scottish producers.
Charlotte Square and Moray Place offer a quieter and less touristy side of the new city.
Stockbridge Neighborhood, plenty of local shops, cafes and delis.
Dean Village, an ancient village with windmills and with very quaint cottages
St. Andrew Square, a place very lively and full of gardens
Rose Street, a pedestrian street located between George Street and Princess Street lined with shops for which a pleasant stroll.
With these two round-trips you you can make a fairly complete view of Edinburgh, but if you rely on an extra day is highly recommended to do a tour around . Highland landscapes, lakes and castles of Scotland are a perfect complement to the trip to visit the city.
LOCH NESS AND HIGHLANDS:

You will need only one day to enjoy one of the major mysteries of Scotland: Loch Ness, famous for the legend of the monster, Nessie, living in its waters and whose contested existence again present in 2014 when the service application Apple maps " sure " he saw his trail when in fact it was the halo of a boat.
Also on the tour you can visit the spectacular Glencoe Valley, skirting the Ben Nevis (the highest mountain in the UK ) , visit the village of Dunkeld and some distilleries.
THE ROUTE OF THE CASTLES:

One route would cover the ruined castle of Berwick-upon-Tweed, the Norman castle of Bamburgh and Alnwick Castle (where part of the Harry Potter saga was filmed )
Another alternative would be the path where you see the reason for inspiration in Scotland of great authors such as Shakespeare, Walter Scott or JM Barrie. Seeing Glamis Castle, considered the most haunted castle in Europe with Mac Beth and the Witches , the Dunnotar Castle and Kirrimuir Castle, where Peter Pan was born .
Whether you decide to extend the visit with these trips as if you prefer to stay in Edinburgh and enjoy the city in depth , here are a few BITES to take advantage …
As you have been verified during the post , one of the biggest complaints of Edinburgh are countless legends and ghost stories .
If you like to have a plan of fear, there are tours of about two hours catacombs and underground vaults, cemeteries , bridges and prisons in which also will learn many details of the culture and the people there. A different plan to do in the city. In  http://www.getyourguide.es/edimburgo-l44 you will find different proposals.
As so-called "ghost tour", although in reality it is a historical tour, you can do the tour of the Real Mary King 's Close, where you make a dive in the lifestyle of the sixteenth and seventeenth centuries visit and knowing in depth what is a "lose" .
Another curious alternative is the Scotch Whisky Experience or Edimburgh Gin Distillery: the first allows watch closely the process of elaboration of whiskey and a good choice in town for those who do not have the possibility to visit an actual distillery. The second, for the history of gin accompanied by a small tasting
But so it is certainly known Edinburgh, is the Fringe Festival, https://www.edfringe.com , which is not a particular Festival but a set of festivals ranging from late July through early September and they throng the city. With more than 3,000 artistic shows ranging from music, theater , comedy , exhibitions and even circus shows , is one of the most international , citing the giants of the performing arts attractions.
Most often in Edinburgh 's go out for a pint, there are hundreds of bars and pubs to do it. The most famous Scottish beers are McEwan 's and Tennents, but in pubs find all kinds of local and international brands to choose from. What I like about these locations is the amount of history and travel history they have behind them, while enjoying your drink you can listen to hand both customers and employees thousand anecdotes and stories that make a beer be a surprising and fun experience!
Deacon Brodie's Tavern is the most famous tavern in the Royal Mile and is located in the area of Lawnmarket. The name of the pub refers to William Brodie, a citizen that night became a formidable thief, it inspired "The Strange Case of Dr. Jekyll and Mr. Hyde" by Robert Louis Stevenson.
Last Drop, (74/78 Grassmarket, EH1 2JR), remembers his name to inmates before execution before the people took their last beer or whiskey at the pub. Another place full of legends and stories of apparitions like a girl who can be seen on the roof or even in the same pub bar.
Finally The World's End, "the end of the world" former border between what was "known world " and "not the world"; as it is the place where the doors and were out of the city, today marked by a golden cobbles just in front of the tavern.
And not just a pint, the Scottish weather invited to attend the various proposals for cafes, not only the aforementioned          "cradle" of Harry Potter, Elephant House:  http://www.elephanthouse.biz at 21 George IV Bridge, but other many no less interesting options :
The caffeine Drip, http://www.thecaffeinedrip.com, is one of the ones I like. They have a delicious African coffee and also offer complete breakfast in a pleasant atmosphere. You will find it in 10 Pl Melville, Edinburgh .
They say  Artisan Roast has the best coffee in town. It is a picturesque place for "true coffee drinkers " and to disconnect: no wi- fi and the atmosphere is 100% focused on you to relax and enjoy the moment! Moreover, if the day is clear and you can see the rain through the windows, the plan will be round ! 😉 Http://www.artisanroast.co.uk, at 57 Broughton Street and 138 Bruntsfield Pl .
If any of you prefers wine like me I leave the bite of Ecco Vino wine bar, http://www.eccovinoedinburgh.com at 19 Cockburn St, close to Waverley Station. It has a very interesting list of wines to choose from and restaurant area, but if you ask for a table olives, bread and pesto to accompany the cup is also very nice!
I must admit that Scottish dishes are not for me. The Haggis, one of the most popular dishes, is made from liver, heart and lungs of lamb, all embedded in the skin formed by the stomach and boiled. Other traditional recipes are Neeps and tatties (mashed potatoes and radishes ), the Cook- a- leekie or leek soup , potatoes, chicken stock and butter, or smoked herring or Kipper . Remember if you order fries sauce there is a mixture of vinegar and "brown sauce": with tomatoes, molasses , dates, tamarind, spices, vinegar, raisins … and if you want ketchup have to ask (and pay) apart.
Edinburgh has lots of restaurants, the best areas would be the top of the Royal Mile in the Old Town, Princes Street in the New Town, and Rose Street pedestrian street. Although it is also common to dine in any pub, ordering food at the bar and paying it any more serve to take in some table after it is free .
Some of the places that I liked to eat are:
The Roamin' Nose, http://www.theroaminnose.com, 14 Eyre Place, Edinburgh (New Town). A different place , welcoming , surprising, with great food and good prices .
Café Hub, http://www.thehub-edinburgh.com/cafe, a stylish place on the Royal Mile in the old but away from the hustle and bustle of tourists , which has a terrace with stunning views and simple food quality helmet.
Wildfire, http://wildfirerestaurant.co.uk, 139 Rose Street (New Town),is a small place where you can taste the best meat from the Highlands, Scottish cheeses and craft beers.
And move on to find the best accommodations! As you know, the Balmoral Hotel (http://balmoral.grandluxuryhotels.com) is one of the most famous and prestigious , but maybe too classic luxury for my taste. The city offers many alternatives charming and lower prices, such as these that I comment that will not disappoint you:
Tigerlily Hotel, http://www.tigerlilyedinburgh.co.uk, it provides for about 150 € night an excellent location in the New Town, a lively cocktail bar and a lspectacular dinner area.
The Inn On the Mile, http://www.theinnonthemile.co.uk, in the heart of the old city and very curious: the entrance to the hotel is through the pub. The building that now houses the hotel was once a bank and gives it a special character . 140 € aprox. per night.
Motel One Edinburgh Royal, http://www.motel-one.com,in the historic market square of Grassmarket. You can stay in it for about 75 € per night.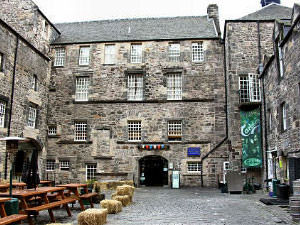 Have you heard the saying that in Scotland you can find all four seasons in one day? In Edinburgh, in the sunny day, it can completely cover the sky and download a storm for a few minutes to appear rays back again … this is a challenge when it comes to preparing your suitcase because you have to be prevented for all! The best thing: layers that go putting on and taking off, and a good handbag or backpack go summoning them In winter, let not wear waterproof coat in summer and do not forget any garment, however slight, has long sleeves. Most importantly footwear. In addition to comfortable, I look or approves water resistant. If you are clueless and time catches you unawares, seek the shelter of a coffee! Surely the storm passes soon and can return to the road again
Note that it is easy for the sun to 17h and is hiding, so you have to go psyched for the lack of light and sun, not you go to catch the winter blues, a kind of depression than city dwellers this effect manifested by lack of light linked to bad weather and that makes them stay home warm for not going out. Try if the weather is not you put a good face to bad weather!, Edinburgh offers also very attractive scenery when it's cloudy and drizzly .
Think in Scotland is seeing Tartan all over the place … The Scottish tartan fabric is par excellence and has become one of the most representative symbols of their culture. In Edinburgh itself will find many traditional shops selling both the fabric and ready-made garments like the famous kilt or kilt male, scarves, sweaters, coats …
In addition toTartan, other purchases include whiskey (although beware! The prices are considerably higher than in Spain) , oatcakes, butter cookies (shortbread), and even music with typical Scottish bagpipes. All this will easily find in the shops scattered along the Royal Mile.
Here some useful and comfy looks to explore the city …
And here 's post today! I hope you enjoyed this story and superstitions city … For those of you lucky enough to visit it soon , I hope the guide will prove useful and as always, do not fail to tell your experiences and propose more BITES !!! In this case, I would like to thank my friend MM's Bites about the most interesting excursions to make from Edinburgh 🙂
Enjoy the week, Trippers!
xxx
E
Guardar